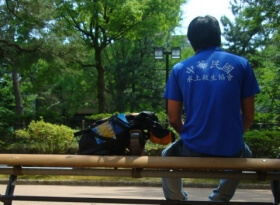 Car
Security is one of our most important thing, so the vehicles are in the car two years, although we only vehicles carrying coaches and equipment, but we do not want in a vehicle while traveling because of failure caused by our staff being late affect the customer's itinerary. Of course, we must ensure that our coaches and equipment to and from peace.
Equipment
Our personal safety equipment, helmets, life jackets, safety harnesses, hook loop, use the line with world recognized CE and UIAA certified, as our jackets and gloves and cleats are carefully selected manufacturing in Taiwan.
Coach
Our coaches are subject to different professional training, there are mountain guide member (Sports Commission Executive Yuan issued). Lifeguard (issued by the Ministry of Education, Sports summer). Climbing Class C Coach (ROC mountain Association issued). Torrent Rescue (US Rescue3 issued ). lifeguard instructor (ROC lifesaving Association issued). open Water rescue (Australia PADI issued). open Water dive (Australia issued PADI), etc.
Righteousness
We fixed our net thousandth of donated some remote areas or mountain community, perhaps we donated money or goods do not have much, but we have to set aside your consumption costs of some groups to help us in Taiwan, our philosophy "one for all, all for one."
Food
Eat great emperor, but the food valley may very different, so we offer freshly brewed pot of face and hot red tea, when upstream due to the relative strength of the depletion of moisture and heat must be added, we recommend that guests can self Preparation of Small Ping mineral water and chocolate in the mouth can be added at any time with, but do not carry the excess (eating more fat will be).
LNT
Seamless mountain sports LNT has been our promotion, simply remember the seven items of which two, we are able to care for our land. 1. The proper maintenance of environmental waste disposal. 2. The conservation of the natural environment and wildlife.